The 16th Battalion Royal Western Australia Regiment (16 RWAR) was formed on 1 January 1966. However, the history of the unit can be traced to the 16th Battalion AIF, which was raised at Blackboy Hill Camp, Western Australia on 16 September 1914 as part of the 4th Infantry Brigade.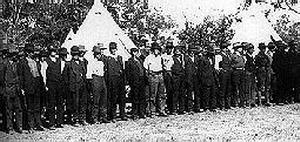 The Battalion landed at Gallipoli on the 25th of April 1915, then went on to France, where it took part in many famous battles such as the Battle of Passchendaele, Pozieres and Bullecourt. It was disbanded at the end of the war and became a Citizen Military Force (CMF) unit, combining with 11th Battalion, forming 11/16th Battalion in 1930.
In 1936 a Scottish Regiment was raised and given approval to bear the designation, 16th Battalion (the Cameron Highlanders of Western Australia). During World War II, the Battalion fought in Syria, New Guinea and Borneo, and was also engaged in the defence of the Darwin Fortress area. It was the second most decorated unit in the Second World War. A number of name changes ensued, with the Battalion taking its current designation on 1 January 1966.