| | | |
| --- | --- | --- |
| Category: ARMY Today | | |
Military Cadets in Australia & New Zealand

The original Rising Sun hat badge of the Australian Commonwealth Cadet Corps circa 1911

---

Australian Cadet Corps Banner

NZ Cadet history The numerous Cadet Corps formed during the Volunteer period became Public School Cadets under the control of the Education Dept on July 5, 1902.

On 17 March 1911 a new Cadet Corps was formed and was divided into Junior Cadets for boys from 12 to 14 years and Senior Cadets for boys aged 14 years and above. Each Senior Cadet wore wore a fern leaf badge with the Unit's designated number in the centre. After the Great War the Cadet Corps gradually adopted the badges of the Regiment or district to which they were attached.

The General issue badge in use today was first issued in 1950.
This uniform was worn by Senior Cadet William Davison Walster when he went to England with the Commonwealth Cadets as part of the Australian 1911 Coronation Contingent.

He was aged 15 and 9 months at the time. He was commissioned in the Commonwealth Cadet Corps with the rank of Second Lieutenant on 28 April 1914.

Enlisted in the AIF on 31 July 1915 and served overseas with 14 Field Artillery Brigade. Returned to Australia on 13 April 1919.

Alfred Harrie Thomas (1893-1974) known in the 1911 Coronation Cadet Corps Contingent as "Pambula Jack" after his town of origin and his family nickname.

Because of his equestrian skill and achievements, he was the only cadet in the unit to wear spurs.

Also shown, 2nd from right, middle row in photo below.

Donor of both images, Ronald Thomas (son).

NSW Senior Cadet 1911 Coronation Contingent.

| | |
| --- | --- |
| | The shoulder flash worn by Cadets on winter uniform |

The history of Cadets in Australia is rich and interesting.
School cadets have been in existence in Australia for over 100 years. The first unit was established in Australia in 1866, at St Mark's Collegiate School, NSW. This unit subsequently became the King's School Cadet Corps in 1869. Cadets remained under State auspices until 1906 when the Commonwealth Cadet Corps was established. Conscription for part time home service, including service by cadets, was introduced in 1909 and, under the Defence Act of 1903, the Corps was included in the provisions for Universal Military Training.
After 1911 it was compulsory for all male children to take part.

Junior Cadets were aged 12 to 14 serving 90 hours annually
Senior Cadets were aged 14 to 18 serving 4 whole days, 12 half days and 21 night drills annually.
Citizen Cadets were aged 18 to 26 serving drill to the equivalent of 16 days of which 8 days must be served in an annual camp.

Compulsory training started in 1911 with 92 Cadet Battalions comprised of 922 Companies. Membership totaled 2,285 Officers and 86,899 Senior Cadets.
All schools were required to join the scheme. As at December 31, 1913 some 8044 schools were training a total of 55,850 Junior Cadets.
As a result of this scheme the strength of the Australian Army rose from 19,880 in 1904 to 48,383 in 1913. At that stage it was anticipated that the Army would number 130,000 by 1920. As well Rifle Clubs throughout Australia numbered 1,133 with a membership of 47,500. They were encouraged by the issue of the Government rifles with 230 rounds per member annually.
Conscription for part-time service was abandoned in 1929.

There is disagreement about how and where Cadets started in Australia. New South Wales and Victoria both claim the honour.

<<< Commonwealth Cadet Corps (Victoria)

Silver Commonwealth Military Competitions Medal for Senior Cadets. On the reverse, in raised letters, are the words '. CHAMPION . TEAM . BRIGADE COMPETITIONS'. Engraved in sloping letters is the date '1912.13' and the words 'Sergt. J. McDonnell. 44TH BATTN'.

John Albert McDonnell was born at Illabo, NSW, in 1897, doing his pre-war compulsory cadet service with 44 Battalion in country NSW. Married at a young age, McDonnell was working as a clerk in Albury, NSW prior to his enlistment in the AIF in July 1915.

Posted as Private 3875 to 6 Infantry Battalion, he sailed with the 12th Reinforcements aboard the transport A40 ('Ceramic') in November 1915, arriving in Egypt too late to see service at Gallipoli. 6 Battalion moved to France in early 1916, its first major engagement being at Pozieres, on the Somme, in July. McDonnell died on 19 August of wounds received in the subsequent fighting around Mouquet Farm, and is buried at Warloy-Baillon Communal Cemetery Extension.

Cadets after 1929
Following the suspension of Universal Military Training in 1929, cadets were divided into two categories for the purposes of organisation and training:
Regimental detachments affiliated with units of the Militia forces.
Detachments that were generally school-based and not affiliated with Militia units. (School-based units did not receive Army assistance).
In 1939 Permanent Army staff were withdrawn from the Militia and Regimental detachments were abandoned.

School based units continued to function but with difficulties caused by staff and equipment shortages.

In 1941 cadet units began to receive more Army support and in 1944 the provision of uniforms at public expense was authorized. Conditions of service improved and equipment became more plentiful. By May 1946 cadet activities were paid for by the Army.
Cadets from 1949 to 1998

1993. Cadet Warrant Officer Class 2 L J Harris and Cadet Under Officer L Croake of 121 Regional Cadet Unit Wynnum. Cadet Bandsmen are in the background. These Cadets are wearing starched jungle green uniforms, black ankle boots and gaiters plus Sam Browne belts. WO2 Harris later was instrumental in starting 136 RCU Redlands and became it's first WO1 and Cadet RSM.

Affiliations between Cadet units and Citizen Military Forces were developed during the period 1949-51. At that time the title of 'Australian Cadet Corps' (ACC) was officially adopted (see above left).

Cadet Brigades with Regular army staff were established and remained in operation until the mid seventies when the Cadet Corps was disbanded by the Whitlam Government.

The Corps was reinstated in 1976 but with a number of changes. Community based, rather than school based units were encouraged, war-like training was not to be conducted and an annual camp was to be provided at no cost to the cadet.

In 1984 school based units were given the opportunity to apply for 'full support' status and become community based units.

Cadet units that remained school-based became 'Limited Supported Units' and received very little, if any, Army support. In 1993, the title of 'Australian Army Cadet Corps' was approved with the short title remaining 'ACC'.

In 1998 'Limited Support Units' were accorded 'full support' status.
Like the rest of the Army the Cadet Units wore a cloth shoulder flash on battle Dress uniform during the 1950s and 1960s.
Gregory Terrace High School Cadet Unit (Qld) wore this one.
| | |
| --- | --- |
| | |
| Shoulder Patch pre 1993 | Army parachute wings circa 1994 (Cadets) |
| | | |
| --- | --- | --- |
| | | |
| Cadet WO2 Badge 1993 | Cadet WO1 Badge 1994 | Cadet WO1 Badge DPCU 1994 |
Cadets in 2003

<< Former Australian Cadet Forces Medal

Current Australian Cadet Forces Medal >>

Established; December 1999

Awarded; Officers and Instructors of Cadets for 15 years efficient long service with a clasp for each additional 5 years of efficient Service.

Description; The obverse of the medal shows the crest of the Australian Cadet Forces. On the suspension is the St Edwards Crown. The reverse depicts the Federation Star overlaid with an engraving bar for the recipients name.

In 2001 the title of Australian Army Cadets was approved with the short title of AAC.

To this day all units of the AAC are entitled to receive full support from Army. 'Full support' entails the supply of uniforms and equipment, an annual camp, transport to and from annual camp and training for the adult supervisory staff (Officers and Instructors of Cadets).

Rank badge in gilt for Cadet Under Officer (Cadet equivalent of 2nd Lieutenant).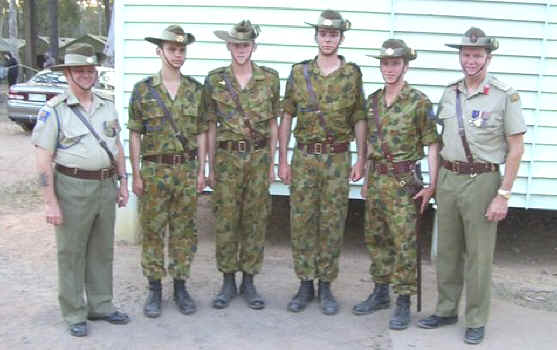 The cadets (in the above photo) with LTCOL (AAC) Ross Brady (SCO HQ-SQLD) and Colonel Graham Robert-Thompson MVO, RFD have been accepted into ADFA in 2003. They are from left - CUO Grant Joy, CUO Cameron Hawkins, CUO Clinton Anderson and CUO Phillip James. Congratulations must also go to CPL Heston Russell from 129 RCU at Enoggera who has been accepted to ADFA in 2003. SGT Timothy Mills from 126 RCU Pine Rivers will be joining the Army through general entry as a mechanic and CPL Craig Blaw, also from 126 Pine Rivers, is going to infantry.
CUO Lia Finocchiaro (AAC-NT) who was recently awarded the Northern Territory University Award for Outstanding Leadership. A student of Kormilda College in Darwin , Lia was deemed to have all the attributes that are the hallmarks of great leadership both in and out of cadets.

With a reputation for a great energy and zest for life, Lia is a young woman who has a burning commitment to succeed and to see a job well done.

This year Lia was instrumental in the organisation of Year 10 and Year 12 social functions within her school along with her many duties as a Cadet Under Officer.
As the highest-ranking cadet in the Northern Region, her achievements within the Australian Army Cadets are noteworthy. They include fundraising for widows and victims of war and the Cancer Council, visiting local schools and assisting with their Anzac Day ceremonies, leading a team of NCO's that was instrumental in setting up an Army cadet unit in Alice Springs, and becoming the Public Relations Officer for the Northern Region. As a fitting tribute to her skills and commitment CUO Finocchiaro was named as one of the Defence Force Volunteers of the Year for 2002 and was the only cadet to receive this honour.
Australian Army cadets, from left, Cadet Lance Corporal Jenna Pannigas, of Atherton, Cadet Corporal Daniel Lee, of Malanda, and Cadet Matt Rowston, of Atherton.

Australian Army cadets, from left, Cadet Sergeant John Parr, 15, of 14 Regional Cadet Unit, Rockhampton, teams up with Cadet Under Officer Samantha Hutchings, of 132 Regional Cadet Unit, also at Rockhampton, to solve a navigation problem

Australian Army cadet, Cadet Sian McClintock, of Townsville's 130 Regional Cadet Unit, enjoys the shade of a hutchie during the recent annual camp for the Northern Region.

Australian Army cadet, Cadet Sergeant Bernard Gilpatrick, of Mackay's 122 Regional Cadet Unit, takes time out during a navigation exercise as part of the recent annual camp for the Northern Region.