Late in 1826, the Governor of NSW, Ralph Darling, sent Maj Edmund Lockyer with a detachment of soldiers from the 39th Dorsetshire Regiment and a party of convicts to King Georges Sound, where Albany now stands. They established a secondary penal colony, discovering that Durmont d'Urville had already visited the area and surveyed the Sound.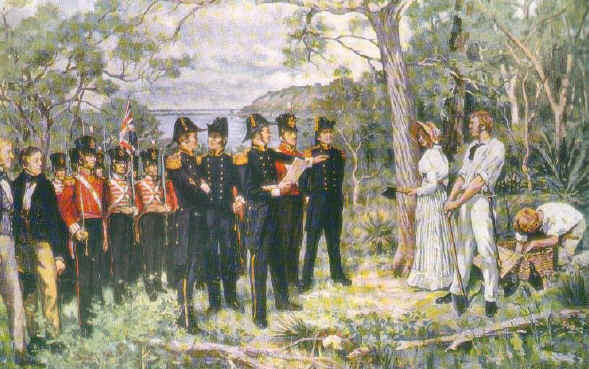 Captain Charles Stirling at the foundation ceremony of Perth WA. Uniforms left to right are Victorian Rangers, Victorian Infantry Brigade and Victorian Mounted Rifles.
Capt James Stirling, of HMS Success, was not satisfied that Darling's action was sufficient, and obtained his permission to look for a more suitable site on the west coast. In 1827 Stirling explored the Swan River, reporting on its great strategic value. On 2 May 1829 Capt Charles Fremantle, of HMS Challenger, arrived and took possession of not just the west coast, but the rest of New Holland not already included in territory claimed by the British
Stirling was appointed Lieutenant-Governor of the new colony of Western Australia, establishing Perth as capital in 1829.
Capt F.C. Irwin, of the 63rd West Suffolks was appointed to command a detachment of the regiment, consisting of one other officer and 66 men. As a further defence measure, all men between 15 and 50 had to enrol for military service.
Prior to Federation, the only Army in WA was a part-time volunteer force consisting of eight infantry companies:

two at Perth,
two at Fremantle and one each at
Guildford,
Geraldton,
Albany and
Northampton, plus an artillery field battery.
The total strength was between 500-600.
More than 1200 West Australians volunteered for the Boer War in South Africa (1899-1902). On Tuesday 1 January 1901, the armed forces of all six Australian States came under control of the Commonwealth Government.
Sir John Forrest (known as the "emperor of the west") took control of all defence forces on 1 March 1901 - a date accepted by historians as the birthday of the Australian Army. It was not until 1902, however, that a military leader was selected to command all Australian land forces - Maj Gen Sir Edward Hutton, a former British soldier with experience in NSW, Canada and the Boer War.