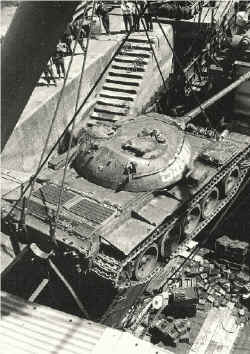 A Chinese Type 59 main battle tank, captured in South Vietnam by ARVN paratroops, being unloaded in Sydney from the Australian Army Ship John Monash in late 1972.

The tank was then taken to the Army Design Establishment in Melbourne for a technical evaluation before extensive testing at Puckapunyal, along with a YW531 (K63 or M1967) APC.

The tank was "gifted" to the Australian Government by the South Vietnamese Government as part of a ruse to get the tank to Australia.
This was mainly organised by Major (later Lt Col) Jim Ellis, who was the Joint Intelligence Organisation's technical intelligence officer in South Vietnam during 1972. Another part of that ruse was to mis-identify the tank as a Russian T-54. The ruse was extended to the point that the presentation plaque fixed to the front glacis plate showed the tank as a T54 with the country of origin being Russia.

The Chinese Type 59 was a direct copy of the Russian T54, with minor differences resulting from differing manufacturing techniques. The North Vietnamese Army started receiving the type in quantity in about 1971, and made their first push southward supported by Armour in the first half of 1972. This was contained, leaving many AFVs, including this one, stranded on the battlefield. In August, Major Ellis was able to acquire the Type 59, and organise its transportation from Da Nang to Australia. It left Da Nang on 6 September 1972.

The tank survives and now forms part of the collection of the Australian War Memorial, but is temporarily housed at the RAAC Memorial and Army Tank Museum at Puckapunyal, in Victoria.

some wording from http://www.users.bigpond.com/AMEP