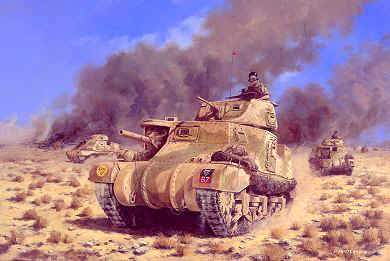 British MK1 Grant tanks of the Staffordshire Yeomanry 8th Armoured Brigade, 10th Armoured Division, breakout from El Alamein.

(This range started life as the Lee tank after Robert E Lee of the Confederate States in the American Civil War. The British version was named after Ulysses S Grant of the United States in the same war.)
A British Tank Commission went to the US in June 1940. They had intended to have British tanks produced by American companies, but with the British apparently soon to be defeated , the National Defence Advisory Committee refused to allow British designs built. so the Brits ordered the Lee - Grant range.

In Oct. 1940 orders were placed with Baldwin, Lima, and Pullman. New cast turret, radio equipment in turret instead of in hull. 200 vehicles were ordered and delivered to the 8th Army in the Western Desert in early 1942. 4th Armoured Brigade had 167 Grants at the Gazala battle on May 27, 1942. It gave a boost to morale as it could out-range the panzers. Standard M3s were then sold to Britain and were designated Lees. 250 of these arrived to the 8th Army in June 1942. By the Battle of Alamein in October 1942 almost 600 M3 tanks had been delivered. When the M4 replaced these tanks in the desert the M3s were shipped to Burma. A few went to Australia.