| | | |
| --- | --- | --- |
| Category: VC winners | | |
Victoria Cross
1914/15 Star
British War Medal
Victory Medal

Delhi Durbar 1911
Indian General Service Medal 1908
Russian Cross of St George 4th class
Croix de Guerre (French)
The badge on the left (the one that's toppled off the picture, says "Sergeant Issy" The medals are worn in the same order Maurice Smith wore them in the picture you have of him. Hope you enjoy this photo, you have my (and Issy's son's) consent to post this on your website. Thanks again. Nick Gnazzo (Great great nephew)

Two Melbourne schoolboys wearing their father's medals, probably in some form of patriotic parade during the Second World War.

The boy in front is Maurice Smith, the son of Issy Smith, a well known and respected member of the Melbourne Jewish community.

Issy Smith was born Ishroulch Shmeilowitz in 1890 in Egypt where his father served in the French Consular Service. In 1901 the 11 year old boy stowed away on a ship bound for London.

In 1904, when nearly 14, he enlisted in the 1st Battalion of the Manchester Regiment, his name anglicized by the recruiting Sergeant as Issy Smith.

He served in South Africa and India and was awarded the Delhi Durbar medal.

Discharged in 1912 he migrated to Australia and settled in Melbourne.

In August 1914 he was recalled to the Manchester Regiment. On 26 April 1915 during the 2nd Battle of Ypres, now Corporal Smith, ran towards the enemy and carried a severely wounded man 250 yards to safety and later that day under heavy German machine gun and rifle fire he brought in many more wounded men. For this action he was awarded the Victoria Cross. The then Sergeant Smith later served in Mesopotamia where he was awarded the Russian Cross of St George (4th Class) for rescuing a Russian soldier. He was also awarded the French Croix de Guerre.

During the war he was severely gassed and wounded five times. After the war he married Elsie McKechnie in London and in 1925 with his wife and daughter Olive returned to Melbourne. He was appointed a Justice of the Peace in 1930 and regularly sat on the City Court bench. After working for a number of firms in 1938 he was appointed to the Department of Civil Aviation. He died on 11 September 1940, survived by his wife and two children and was buried with full military honours in the Hebrew section of the Fawkner Cemetery.

The medals awarded to Issy Smith, and being worn by his son Maurice, are from left to right: Victoria Cross, 1914-15 Star, British War Medal, Victory Medal, Delhi Durbar Medal, French Croix de Guerre, Russian Cross of St George (4th Class). 1 medal is unidentified, possibly the Indian General Service Medal.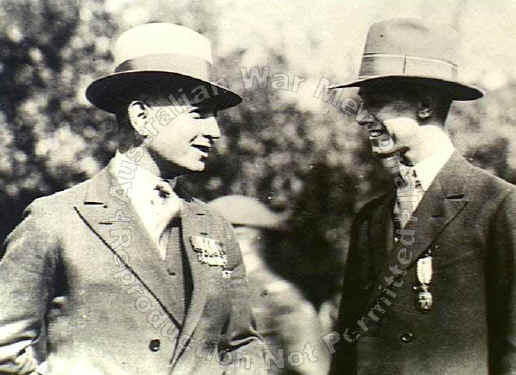 Melbourne, VIC,

1927-04-25.

At the Anzac Day march, two winners of high awards for bravery chat to each other near the Exhibition Building (not in view). The man (left) is Corporal Issy Smith VC, a former member of the 1st Battalion, Manchester Regiment, while the other man is Stanley Gibbs who had recently been awarded the Albert Medal for rescuing a youth swimming at Port Hacking by fighting off an attacking shark with his hands and feet. The Duke of York had presented the medal to him in Sydney. (Donor A. Hamilton)