The name Chinook, like the name of all US Army helicopters, is the name of an American Indian tribe.
The original Chinook was conceived in the 1950s when it was decided that the US Army needed an airborne version of the standard 2 and a half ton truck. Basically, whatever the truck could carry and tow had to be transportable by a helicopter.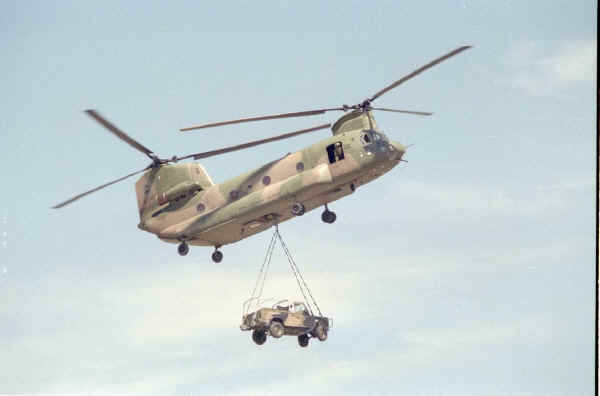 The Vertol Corporation (later to become Boeing Vertol) designers of the Chinook, favoured a twin-rotor design. This allowed a wider centre of gravity range, lower downwash velocities close to the ground and a helicopter of minimum size given the types of payloads that needed to be carried such as Inter Continental Ballistic Missiles and other outsized cargo.
Australia signed an order for 12 CH-47C Chinooks in March 1972 and these aircraft went into service with 12 Squadron, RAAF, based at Amberley.
After the decommissioning of the Chinook fleet in 1989, Australia had no medium lift capability.
Unforeseen demands for support of Blackhawk operations saw the Government reintroduce the CH-47 into service.
In an arrangement with Boeing, the RAAF's mothballed Charlie models were returned to the US for upgrading to Delta models and four were subsequently returned to Australia.
C Squadron of the Army's 5th Aviation Regiment based in Townsville was formally brought onto the Order of Battle on June, 30 1995 and received the four aircraft in May and June of that year.
While mainly used as a medium-lift helicopter throughout the world, Chinooks are also used for rappelling, parachuting and water operations with special forces.
Versatility, matched with a high serviceability rate and cost effectiveness, are the main reasons for the Chinook's popularity.
Around 700 of these helicopters are operating around the world and it has proved itself in conflicts such as Vietnam, the Falklands War, Panama, the Gulf War and Haiti.
AIRCRAFT DATA

Crew

2 pilots, 2 aircrew

Radius of Action

120 nautical miles on internal fuel. Can be fitted with up to 4 external fuel pods to extend range

Cruise Speed

120 knots

Seating

10 fully equipped soldiers

Internal load cap.

1800kg

External load cap.

2700kg

Engines

Two General Electric T700-701A